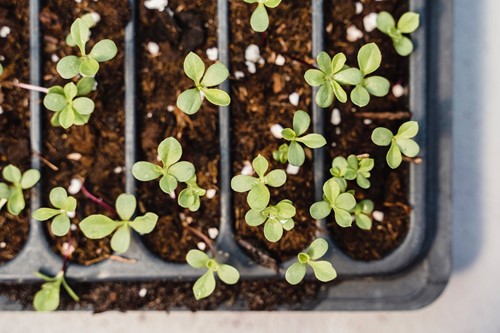 Whether you're gardening in the winter or protecting delicate houseplants, indoor greenhouses are an excellent solution. You can find miniature greenhouses meant purely for utility and others meant to provide aesthetic appeal. If you build your own mini-greenhouse, it's up to you. Here are some ideas for simple mini-greenhouses to use indoors.
Plastic Bin Greenhouse
For a convenient, affordable and easy-to-make mini-greenhouse, all you need is a clear plastic storage bin. The size of bin you choose should correspond with the type of plants you want to grow in your mini-greenhouse. Most plastic storage bins are rectangular and can be set up on their side to accommodate taller, larger plants. Use a drill, jigsaw, dremel or hot knife to make holes in the lid of the bin for air flow. Place your new mini-greenhouse in a sunny spot or under an LED grow lamp for easier photosynthesis.
Upcycled Picture Frame Greenhouse
For a much smaller mini-greenhouse, try making a terrarium -style container using picture frames. You can use vintage frames for a funky, eclectic aesthetic as long as they're the correct size. Otherwise, simple rectangular picture frames can be found at most dollar stores. Take them apart so you only have the frame itself and the glass pane. Then, using hot glue or other strong adhesive, connect the frames into a box shape. There are many different design options to choose from, including those with hinged doors and some that are open to the air at the top. Regardless, your smaller plants will be protected and stylish.
Upgraded Display Cabinet Greenhouse
Converting a glass display cabinet into a greenhouse is a hot trend among houseplant enthusiasts. While a more expensive option, it's simple to build and makes a stunning aesthetic statement in any room. Use LED light strips on the top of the cabinet and the bottom of each shelf to provide light for the plants. For extra humidity and temperature control, add weather stripping to the edges. This way, you can create a functional and beautiful mini-greenhouse that also serves as eye-catching décor.
There are many ways to build a DIY greenhouse of any size. However, if you're interested in creating a greenhouse to use indoors, these options are a great place to begin.